About Spider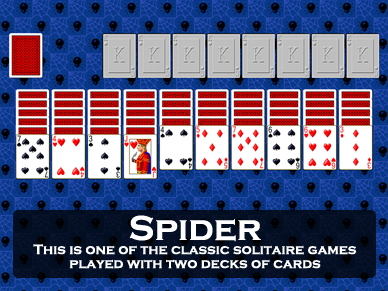 Spider is a classic 2 deck game that is among the most popular of solitaire games. In a recent poll, Spider was the 7th most popular game among users of Pretty Good Solitaire. It is a difficult game of skill. There are 10 tableau piles and while the piles can be built down regardless of suit, only groups of cards built down by suit can be moved together. Spider differs from most solitaire games in that there are no foundation piles. When a group of 13 cards in descending sequence down by suit are grouped together, they are removed from play. The object is to remove all the cards from play. The cards that are not dealt out at the start are held in the stock. When there are no more moves in the tableau, one card is dealt to each tableau pile from the stock.
It is very easy to get blocked in Spider. You can get blocked when you build out of suit, or when cards get dealt from the stock onto a sequence. Therefore it is critical to build in suit as much as possible. Empty tableau piles (spaces) are extremely valuable and can be used to help moves cards around, but you must fill all spaces before dealing from the tableau.
The average player wins Spider about 10% of the time. A good player can win about 33% of the time and it appears that the best possible score is somewhere around 50%.
In 2001, Spider became the 3rd solitaire game to be included with Windows (joining Klondike and FreeCell). This has greatly increased Spider's popularity. Because Spider is so difficult, the Windows application adds two easier levels of play, which are called Spider One Suit and Spider Two Suits.
Spider One Suit
Spider One Suit makes Spider easier by making all the cards of same suit, changing the game so that moving groups no longer depends on suit. As a solitaire purist, I find this changing of a deck of cards into just one suit somewhat blasphemous, but it is essentially the same idea as the Spider variant game Black Widow (in Pretty Good Solitaire and Spider Wizard). Black Widow is the same as Spider except groups of cards can be moved regardless of suit. This makes the game much easier.
Spider Two Suits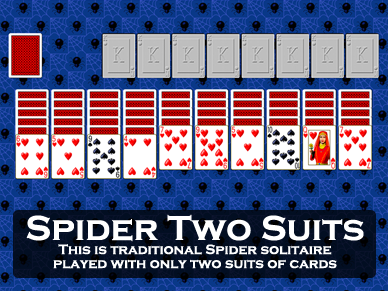 Spider Two Suits is the same idea except there are two suits instead of one, meaning cards can be moved regardless of color. This game is included in Pretty Good Solitaire using the wizard and Spider Wizard.
Spider Tips
Spider allows you to build down regardless of suit, but you can only move cards in groups by suit. Therefore, you should prefer building in suit when possible and only build out of suit when necessary. When building out of suit, prefer to build high ranked cards.
Empty spaces are very valuable. Don't fill empty spaces just because you can (such as with Kings). Use empty spaces to free blocked cards. Of course, before dealing another row of cards you have to fill spaces.
---
Play Spider Online
Play Spider for free online.
---